Circumcision is one of the ancient practices commonly followed by most people who believe in religions like Judaism, Islam, and some Christian denominations such as the Eritrean Orthodox Church, the Ethiopian Orthodox Church, and the Coptic Orthodox Church.
It is performed as a religious ritual, cultural act, and for medical and aesthetic purposes. With the latest surgical improvements, most male individuals, regardless of age, prefer to get circumcised. Also, urologists recommend circumcision for people suffering from foreskin and penile conditions like phimosis, balanitis, paraphimosis, balanoposthitis, etc.
One of our circumcision specialists says, "Undergoing a circumcision surgery can cure tight foreskin, inflammation of the glans, paraphimosis, and many more foreskin and penile problems. Also, females of circumcised males can get benefited. Nowadays, circumcision is performed as a preventive procedure to reduce the chance of getting STDs like syphilis, gonorrhea, high-risk human papillomavirus [HR-HPV], and urinary tract infections [UTIs]."
If your doctor suggested you undergo circumcision to cure your medical conditions, try not to avoid or delay it. If you do so, your foreskin condition can become severe and lead to some serious complications, affecting your sexual activity and overall mental state. 
In case you delayed your circumcision, you can suffer from:
Unbearable pain and necrosis: A tight foreskin can make you suffer from severe pain while retracting it to and fro over the glans. Usually, this condition is referred to as phimosis. Due to tight foreskin, your sexual satisfaction can be hindered. Also, the tight foreskin can constrict the distal penis causing vascular occlusion. If not dealt quickly, it can lead to tissue death [necrosis] and partial amputation.
Inflammation and swelling of the glans: The presence of extra foreskin can make it difficult to clean the penis. So, this can lead to the growth of foreign bacteria leading to inflammation [redness and irritation] and swelling of the glans. Many clinical studies reported 3 – 11% of uncircumcised males would experience these in their lifetime.
Posthitis: A thin layer that covers the head of the penis is the foreskin. Uncircumcised males need to make little effort while cleaning the penis. The excess foreskin can promote bacteria and fungal infections, leading to inflammation of the foreskin [posthitis]. So, make sure you maintain good hygiene or get circumcised.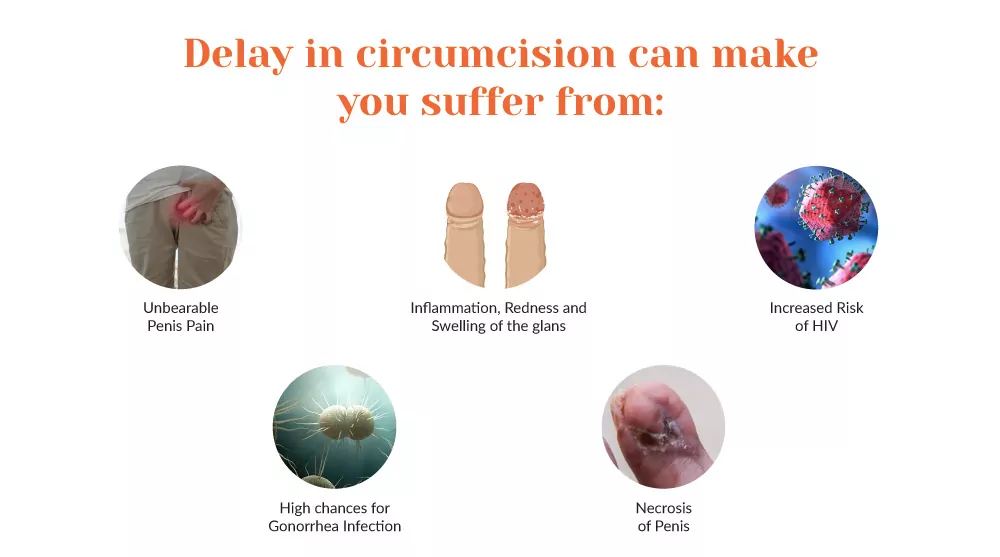 Necrosis and autoamputation: If circumcision is prescribed to treat foreskin and penile problems, make sure you get it done. In any case, if you avoid it, your medical condition can disrupt blood flow to the tip of the penis. As a result, the tissues at the end of the penis can break down and die [gangrene]. Ultimately, the penis tip will be cut off. In some cases, scarring of the opening of the penis can form.
Increased risk of STDs and UTIs: Due to the presence of an extra shaft over the tip of the penis [foreskin], bacteria can accumulate under the foreskin and can lead to severe STDs and UTIs like herpes, syphilis, gonorrhea, HIV, etc. Several medical studies proved that uncircumcised males are more prone to developing various STDs and UTIs than circumcised males. So, getting circumcised in time is important as it removes the foreskin and reduces the chance of getting a UTI and STD.
Some severe complications that can be caused as a result of delayed circumcision surgery are:
Burning and itching sensation in the genital area
Bleeding from the tip of the penis
Dryness of the penis
Meatal stenosis
If you think penile and foreskin problems like phimosis, paraphimosis, and balanitis can heal permanently on their own, then it is a misconception. Surgery is the only way to cure these conditions. Most urologists around the world recommend circumcision surgery to remove the foreskin to end the suffering caused by foreskin problems.
Many techniques are used to perform circumcision surgery, and some of those are:
Laser technique
The Gomco clamp
Dorsal slit
Stapler circumcision
Open surgery
Forceps guided
The plastibell technique
Sleeve technique
The Mogen clamp
Out of all these circumcision methods, laser surgery is highly used because of its benefits like:
Involves no cuts or incisions
No loss of blood
Painless and cost-effective procedure
Causes no discomfort throughout the surgical procedure
No risk of infection
No scars or wounds
Eliminates the need for hospitalization as it is performed as a day care procedure
Promotes quick recovery
Surgeons require less time to complete laser surgery
Higher success rate
To know more information about laser circumcision surgery, you can book an appointment with our expert urologists and circumcision specialists at circumcisiondoctors.in.
Why choose us for the safest circumcision?
In India, many healthcare facilities provide circumcision at various price tags. However, most people visit our partnered hospitals to get circumcised because of the services we provide to our patients. Some of the factors which make us better and a sought after healthcare provider for circumcision are listed below:
Private or confidential consultation with expert urologists
Free cab facility to and from the hospital
Care buddy will help the patient in all necessary formalities
100% insurance claim with the help of our dedicated insurance team
COVID-19 testing before undergoing the surgery
Affordable laser surgery with no post-surgical complications
Free follow-up session and diet consultation after the surgery
"My husband was suffering from pain and itching in the genital area during and after sex. We thought the sufferings would go away on their own within a month or two. So, we neglected the diagnosis and treatment. But even after five [5] months, they did not subside and started becoming more severe. So, we immediately searched in google and came across circumcisiondoctors.in. Without delay, we booked an appointment with one of their doctors. He diagnosed my husband with phimosis and recommended my husband undergo laser surgery. Initially, we doubted the surgery, and later on, the doctor clearly and patiently explained everything about the surgical procedure. Then, my husband underwent laser circumcision surgery. Now, he is free from phimosis and able to enjoy sex without any pain and itching. Thanks to the doctors, they are highly experienced and know what they are dealing with. They used the latest and USFDA approved laser technique to cure my husband's foreskin problem." – Mahima [name changed].
"I'm so grateful to get diagnosed and treated by an expert circumcision specialist from this medical facility for my paraphimosis problem. They provided many healthcare services and other facilities like a free cab to and from the hospital, free follow-up sessions, quick insurance approval, and many more. Kudos to the team who made my surgical experience hassle-free and seamless." – Shanmukh, one of the happy patients from circumcisiondoctors.in